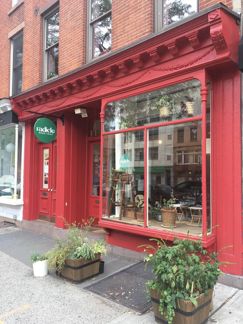 The Radicle Herb Shop
This weekend I went into Brooklyn to explore an herb shop I have wanted to visit.
Upon entering, we were met by Chris who is co-founder and operations manager of the Radicle Herb Shop. Chris, with his super knowledge on everything herb related, is willing to share what he knows with excitement. He is the kind of person we all seek out when in need of in-depth information on herbs. After getting some great info from Chris, I did some shopping! Below is a list of newly researched herbs I've been working on. I've been taking my own herbal journey with the following herbs:
Mullein (Verbascum Thapsus)
Skullcap (Scutellaria lateriflora)
Passion-Flower (Passiflora incarnate)
Check out the Valerian link above for some info, and look out for the others coming soon!
Andrea Giordano
Andrea@AromatheraChi.com
---
2 comments