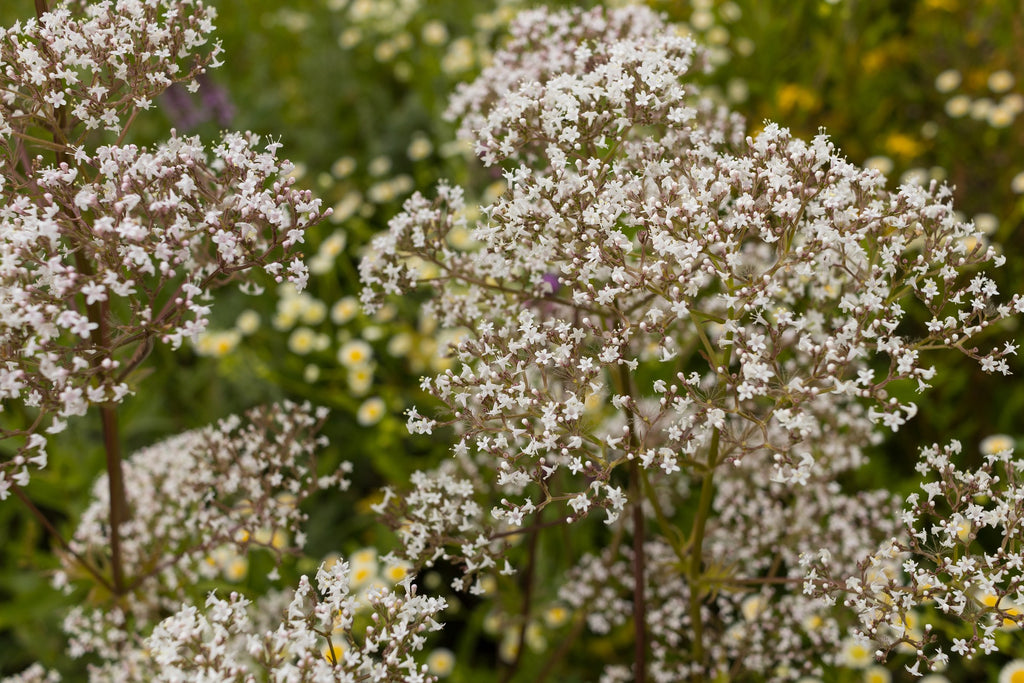 The Power of Valerian
I came across this herb and it peeked the herbalist in me. Valerian? 
What is it? What's its purpose?
Valerian has been used to ease insomnia, anxiety, stress, nervous restlessness, headaches and depressing activity in the central nervous system. It has been used since the second century A.D. and became very popular in Europe in the 17th century.
Germany's Commission E approved valerian as an effective mild sedative and the United States Food and Drug Administration listed valerian as "Generally Recognized As Safe" (GRAS).
Scientists aren't sure how valerian works, but they believe it increases the amount of a chemical called gamma aminobutyric acid (GABA) in the brain. GABA helps regulate nerve cells and has a calming effect on anxiety. Drugs such as alprazolam (Xanax) and diazepam (Valium) also work by increasing the amount of GABA in the brain. Researchers think valerian may have a similar, but weaker effect (but just as effective and a natural plant based remedy).
Plant Description
Valerian is a perennial plant that is native to Europe and grows up to 2 feet tall. It is grown to decorate gardens, but also grows wild in damp grasslands. Square straight hollow stems are topped by umbrella-like heads; its dark green leaves are pointed at the tip and hairy underneath. Small, sweet-smelling white, light purple, or pink flowers bloom in June. The root is light grayish brown and has little odor when fresh. It is really easy to grow, a self-sowing perennial.
Valerian is an herb, from which the medicine is made from the root.  It is frequently combined with hops, lemon balm, Skullcap, passionflower or other herbs that also cause drowsiness. It is said that valerian also has tonic effects on the heart and is especially recommended in cases of irregular heartbeat caused by anxiety in which effects the heart.
The aroma of dried valerian root is not pleasing to everyone - either you like it or you don't. It smells like dirty socks. The fresh root is earthy and if you're making a tea from it mix it with lemon balm (very tasty). Because of the aroma I prefer to make a tincture from the root. This is also very convenient if you wake at night you can just take 1 to 2 tsp. and go back to sleep.
Tincture, what is it and how is it done?
Tinctures are liquid extracts made from herbs that you take orally. They are usually extracted in alcohol, but they can also be extracted in vegetable glycerin or apple cider vinegar (non-alcohol). 
In herbal medicine, alcoholic tinctures are made with various alcohols and alcohol concentrations, 80-100 proof being the most common for root tinctures. You can use Vodkas, gins, brandies, and rums. I'm using 100 proof spirits, which is 50% alcohol.
How to make the Herbal Tincture:
Chop dry herbs (with roots herbs try to chop them finely) and place in a clean dry jar.
Pour alcohol 3 inches over your herbs. They may float the first day so, keep an eye on  them and add more alcohol to the jar if needed. Remember 3 inches above your herbs.
Place in a warm sunny area for 4 to 6 weeks. Shaking the jar vigorously every day.
** Now as I have stated in my other videos as you are shaking your jar filled with these wonderful gifts from the earth, infuse Happy Qi and healing blessings, thoughts.
Strain your tincture thru cheesecloth and then thru a coffee filter making sure the entire herb is strained out. Pour tincture into a clean jar (I like to use Amber jars)
Alcohol tinctures last for years. Non-alcohol tinctures 2-3 years
**Most of all remember to label your jar
References:
http://www.webmd.com/vitamins-supplements/ingredientmono-870-valerian.aspx?activeingredientid=870
Essential oil Safety – Robert Tisserand
Hazards: None Known
Contraindications: None Known
---
5 comments